WILL SOON FLOURISH – Wilson Lee Flores (The Philippine Star) – April 29, 2018 – 12:00am
One of the most unforgettable dinner forum speakers of Anvil Business Club was Davao City's emerging business taipan, 44-year-old Dennis Uy, who founded the country's third biggest oil firm Phoenix Petroleum, developed the 177-hectare Clark Global City which he envisions as "a new BGC," as well as being boss of Chelsea Logistics Holdings Corp. with plans to develop airports and even reportedly hopes to be the country's third telecom player.
Partner of Sys, oil supplier of Gokongweis, bought Family Mart from Ayalas & Tantocos
While sipping white wine to relax himself, the soft-spoken Uy held an eloquent, candid, two-hour dialogue with 250 young Filipino-Chinese entrepreneurs at the 1.7-hectare campus of his recently acquired Enderun Colleges in McKinley Hill, Fort Bonifacio, Taguig City.
After his well-received talk, the officers and members treated Uy like a rock star, lining up to take selfies with him and to give their business cards for over another hour onstage. He was also formally accepted as honorary member of Anvil.
He was a staunch 2016 election ally of President Rody R. Duterte, who appointed him Presidential Sports Adviser on. He is business partner with the Sy family of SM in logistics firm 2GO Group, which was co-founded by the Aboitiz family, and has years of dealings with the Gokongwei family's Cebu Pacific Air. He had bought the Family Mart convenience store chain from the Zobel-controlled Ayala Land and Tantoco family's SSI Group.
Since I was recently elected for a sixth term to head Anvil Business Club as its chairman, I invited him to speak because he is self-made entrepreneur who I believe exemplifies the kind of risk-taking, optimistic and hardworking business people the Philippines needs to sustain our fast-growing economy.
Instead of asking him to deliver a speech, I, Anvil president Patrick Cua, chairman emeritus George Siy, VP Hubert Chua, emcees Lorina Tan and Lexter Ang sat with him onstage as Anvil officers and members in the ballroom asked him diverse questions.
Here are excerpts of what he shared:
Working first for the family
Uy is third-generation and eldest grandson of an ethnic Chinese business family in Mindanao, so he was expected to work for the family firm after college at Manila's De La Salle University. He shared that like most Chinese enterprises, the family business continued such traditions as "pure cash flows and no to loans."
Based in Tagum, Davao and starting with trading copra, the Uy family businesses flourished in mining, supermarkets, car dealership, etc.  He worked for 10 years and at one point was helping run seven firms, but he decided to go on his own even with limited capital. He even borrowed money from informal lenders.
Asked if he considered any other career, he replied: "My academic grades were average, so I couldn't become a doctor. I was not very good at memorization, so I couldn't be a lawyer."
Going for initial public offering (IPO) was one of his goals in business, because he believes it can help attract more professional talents and being publicly listed is "also good estate planning."
His aim is "to establish a legacy, to build up a 50-year-old or 100-year-old company." He half-jokingly added: "In business, dapat may forever (there should be forever)." He shared that in college, he also invested in stocks.
How Phoenix Petroleum started
"In 2002, I established Udenna Corporation as a holding company without holdings (laughs).  Do you know 'Udenna' is a Greek word for 'handsome'? Seriously, 'Udenna' is a word play on my full name: Dennis Ang Uy."
He also started a small restaurant called Dencio's Kamayan, serving barbecues, which became a chain of eight outlets. He even tried operating two Davao City community newspapers, which eventually folded up.
Uy ventured into the petroleum business after the 1998 Oil Deregulation Law created opportunities and he observed retail outlets of independent players like Unioil and Flying V opening in Luzon, so he wanted to do this in Mindanao. He started Phoenix with only eight people, an upstart and underdog firm from Mindanao that grew phenomenally nationwide.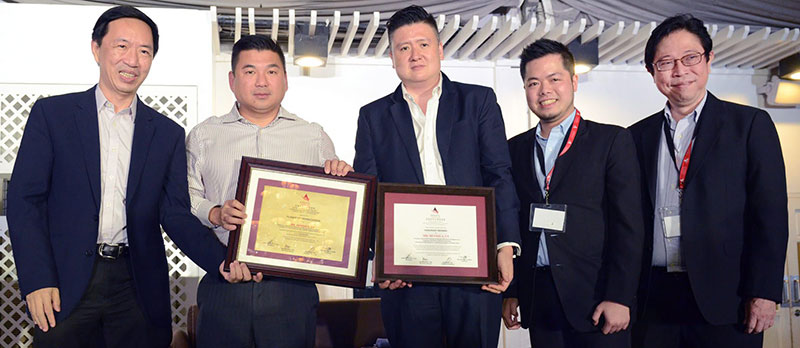 Phoenix Petroleum founder Dennis Uy welcomed as honorary member of Anvil Business Club, from left chairman Wilson Lee Flores, Uy, pres. Patrick Cua, VP Hubert Chua, chairman emeritus George Siy
He said he couldn't afford an ad agency, but got an advertising person to help him think of the brand "Phoenix" and the logo for P30,000.
Uy asked the adman, why not the brand name "Gas Boy" or "Gasco"? The adman said it was "baduy" (uncool or in bad taste).
Uy said he grew Phoenix Petroleum with tremendous hard work, affordable pricing and good service to challenge the big players. He said his first break was a five-year contract for P36 million given him by Cebu Pacific Air. He got that account via a cold call to the airline, and it was a few years later before he was able to make a courtesy call on its CEO Lance Y. Gokongwei. He said his competitors — the multinational giants' people — only work up to 7 p.m. with no work on weekends, unlike him and Phoenix, so he got the Cebu Pacific business.
Where to invest? future of tourism
When asked what industries he'd recommend to entrepreneurs, he unequivocally replied: "Tourism. It is a sunrise industry of the Philippines, it also has a low barrier to entry. Start learning the Chinese language. China tourists last year made two billion trips, and we the Philippines can hopefully benefit from and attract their many affluent tourists."
His purchase of Enderun seems to fit his new tourism ventures, like his $300 million Lapu-Lapu Leisure Mactan integrated casino resort project on a 12-hectare beachfront property six kilometers from the Cebu International Airport. He is applying for a casino license in Clark and has a boutique resort in Bohol.
Uy also told Anvil that among his dream projects are to upgrade the international airports in his hometown Davao City and Panglao in Bohol. His Chelsea Logistics recently proposed a P67-billion bid for developing the Davao and Bohol airports.
People & crisis
He said when he hires people, he looks out more for EQ or emotional quotient. He said his firms are run by professionals, not family-run.
He recounted that his worst crisis was being wrongly charged with smuggling. He was distressed not by the cases, because he was certain of his innocence, but what worried him more was the unfair stigma. The Court of Appeals (CA) nullified the resolutions issued by former justice secretary Leila de Lima, which found probable cause to charge Phoenix Petroleum for allegedly violating Tariff and Customs Code of the Philippines in 2010 and 2011. The CA said the Justice Department disregarded Phoenix Petroleum owner's right to due process.
He said, "Hard work is important, be passionate. When you're hungry, you'll be passionate. Becoming an entrepreneur requires a lot of struggles, you need to sacrifice a lot; like you cannot keep on relaxing, tambay (being idle), play golf. I also believe in destiny or luck, which requires preparation. Being an entrepreneur requires discipline, persistence and diligence."
On the most important thing in life, Uy said, "Freedom is the most important thing in life."
***
Thanks for your feedback! Email willsoonflourish@gmail.com or wilsonleeflores@yahoo.com. Follow @wilsonleeflores on Instagram, Twitter, Facebook, read my blog wilsonleeflores.com. Buy also Philstar's Filipino-language tabloid Pilipino Star Ngayon every Friday for my column "Kuwentong Panadero".
*This article was published in The Philippine Star on April 29, 2018 and is available online at https://www.philstar.com/lifestyle/sunday-life/2018/04/29/1810319/dennis-uy-in-business-dapat-may-forever