The annual franchise conference has something for all business owners
By Sam Christopher Lim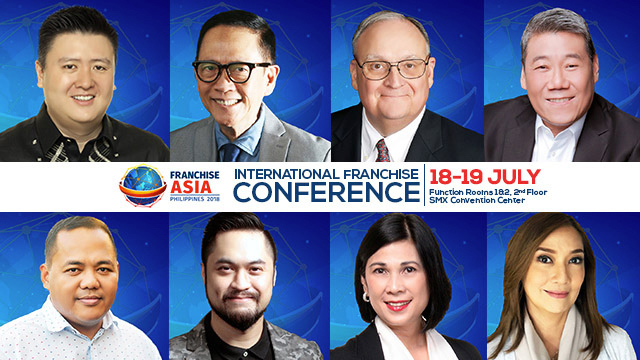 Some of the speakers scheduled to appear at this year's Franchise Asia Conference include (top row, left to right) Patrick Cua, Francis Kong, William Edwards, Bernie Liu, (bottom row, left to right) Anton Diaz, Gino Borromeo, Pinky Yee, Merlee Cruz-Jayme
Filipino business owners and professionals are lucky that one of the world's largest franchise conferences and expos happens yearly in the Philippines. Franchise Asia is one month away and this year's edition boasts a world-class International Franchise Conference on July 18 and 19 and an International Franchise Expo on July 20 to 22. Franchise Asia's theme this year is "Be The Boss" and promises to offer opportunities to learn from the best in the business and also find new opportunities and partners.
Here are eight reasons to join this year's conference:
1. Hear the latest economic and retail trends that will affect your business
This year's keynote address by Department of Trade and Industry Secretary Ramon Lopez is on "Pump Priming the Economy and its Effects on the Business Sector" and Patrick Cua, executive director of The Nielsen Company, on "The Future of Retail."
2. The great debate: social media influencers vs. celebrity endorsers
Get insights into one of the hottest topics in boardrooms and marketing departments across the world. Hear Anton Diaz of Our Awesome Planet and Gino Borromeo of McCann World Group share the strengths of tapping social media influencers to grow your brand, and debate with the 'Celebrity Endorser' panel led by Pinky Yee of Goldilocks and Merlee Cruz Jayme of Dentsu Jayme Syfu.
3. Learn to be a good leader-entrepreneur
Be inspired by Francis Kong's latest talk, insights and stories about what it takes to both be a strong leader and entrepreneur.
 4. Be prepared for digital transformation
Local and international experts share best practices on digitally transforming your business. Speakers like Dr. Donald Patrick Lim of Dentsu Aegis Network Phils., Paolo Lacuna of Oath Singapore, Arlene Padua of the Philippine Marketing Association and Joval Gan of Advocado Singapore will discuss digital transformations in marketing while Zwee Wee of Savant Degrees International and Philips Yu of 7-Eleven will talk about how to transform your backend operations.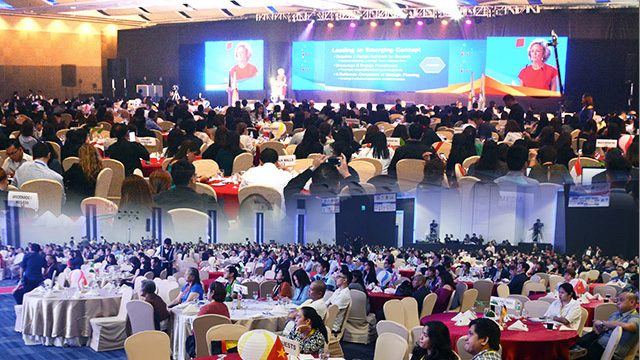 Franchise Asia's theme this year is "Be The Boss"
5. Learn the secrets of managing family business dynamics
With family business dynamics being a crucial component in franchising and business in general, experts and practitioners in the field will share their experiences and insights on this highly relevant topic. Speakers include Johnlu Koa of The French Baker, family business adviser Prof. Enrique Soriano III, Bobby Claudio of Toby's Sports and Pilar Tolentino of the Ateneo Family Business Development Center.
6. Hear the success strategies of growing internationally
Panelists include Bill Edwards of Edwards Global Services US, Bernie Liu of Golden ABC (makers of Penshoppe), Ybhg Datuk Radzali Hassan of the Malaysia Franchise Association, Chris Grandpre of Outdoor Living Brands US, Kathryn Manalo of Potato Corner and Benjamin Litalien of Franchise Wells US.
7. Sharpen up your operational and financial controls
Learn best practices in organizational development with award-winning global executive coach Bjorn Martinoff, Linda Castro of Jollibee Worldwide Services, Pocholo Domondon of PwC Philippines and Audrey Santos of the Figaro Group.  
8.  Learn from colleagues in the industry through business solution round tables
With over 1,000 top business leaders and managers in the industry, this unique format allows participants to network and discuss specific issues with both an expert moderator and fellow conference delegates to get practical tips based from experienced individuals.
Franchise Asia Conference 2018 will have 50 speakers, dozens of simultaneous sessions and is expected to attract over 1,000 local and international delegates, helping turn it into a major business forum for owners and managers to learn and sharpen their skills.
The Franchise Asia Conference will be held in SMX Mall of Asia on Jul 18 & 19, and will be followed by the Franchise Asia Expo on Jul 20 to 22. For more information visit https://franchiseasiaph.com 
www.franchiseasiaph.com or contact the Philippine Franchise Association at (SMART) 0999-8833732 |(SUN) 0932-8792732 | (GLOBE) 0917-8320732 | (+632)687-03 65 to 67)
*This article is copied and originally  published by Entrepreneur Philippines   on June 11, 2018 and is also available online at https://www.entrepreneur.com.ph/franchising/franchise-talk-8-reasons-to-join-the-franchise-asia-conference-2018-a1139-20180611