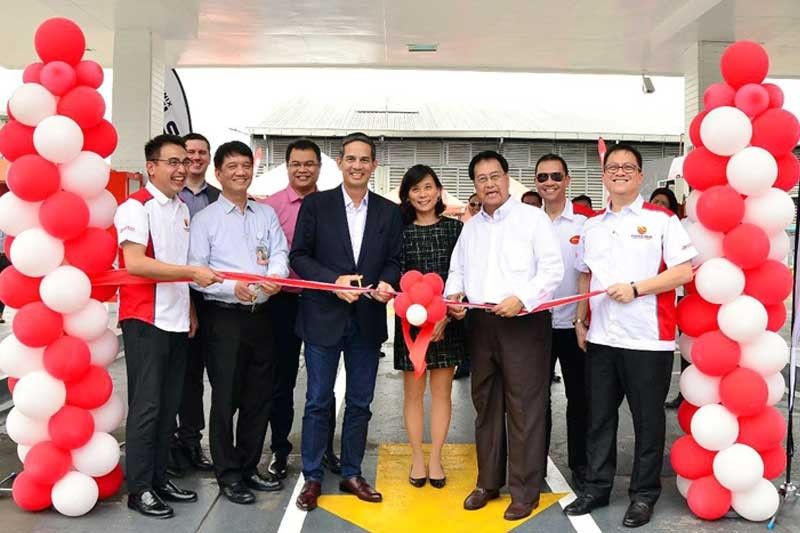 In photo (from left) are Phoenix Petroleum COO Henry Albert Fadullon, Meralco chief technology advisor Gavin Barfield (at the back), Meralco head of supply chain and logistics management Ruben Benosa, Meralco first vice president and head of networks Ronnie Aperocho, Meralco senior vice president Alfredo Panlilio, Meralco CFO Betty Siy-Yap, Phoenix Petroleum vice chairman Romeo De Guzman, Phoenix Petroleum director Joseph John Ong and Phoenix Petroleum vice president for external affairs Raymond Zorrilla.
MANILA, Philippines — Phoenix Petroleum Philippines Inc. has added Manila Electric Co. (Meralco), the country's largest power distributor, to its list of commercial clients.
In a statement, Phoenix Petroleum said it has been awarded the contract to supply and deliver fuel to Meralco.
Under the contract, Phoenix will supply fuel, particularly its new fuel additive Phoenix PULSE Technology,  to Meralco's 11 fuel stations.
Meralco head of legal and deputy general counsel William Pamintuan said the contract underwent bidding and passed the necessary technical requirements.
"We believe that Phoenix, a brand synonymous with high value products, will certainly help ensure that our fleet of vehicles get the high quality fuel it needs to continue rendering uninterrupted service which Meralco needs as a 24 hour service company," he said.
In a text message, Phoenix Petroleum vice president for external affairs Raymond Zorrilla said the contract was bid out to supply 400,000 liters per month.
"We are now actually talking about other aligned services we can do for them," he said.
Phoenix Petroleum is among the country's top three providers of fuel to a wide range of commercial and industrial businesses in power, marine, manufacturing, transportation, aviation, and other industries.
Among its commercial accounts include Cebu Pacific, to which it supplies majority of the budget airline's requirements, and Philippine Airlines, which the oil firm provides the flag carriers requirements outside Manila.
The company gained new key accounts and won bids last year to supply companies in the land transport, construction, mining, power, manufacturing, marine, fishing, and shipping industries.
Phoenix Petroleum recorded a 65 percent jump in net income to P1.79 billion last year.
Sales volume to commercial and industrial businesses grew by 15 percent, while aviation rose 13 percent as the oil company firmly established itself as the third major player in the commercial and industrial segments.
This has fueled the growth in sales volume and helped the company grow its consolidated revenues by 52 percent to P46.3 billion.
Phoenix Petroleum is engaged in the nationwide trading and marketing of refined petroleum products, including LPG and lubricants, operation of oil depots and storage facilities, hauling and into-plane services; convenience store retailing; and trading and supply.
Earlier this year, it expanded its business into convenience retailing after acquiring Philippine FamilyMart, and to asphalt manufacturing, marketing, and distribution through Phoenix Asphalt Philippines Inc.
*This article was published in The Philippine Star on April 26, 2018, and can also be found online at: https://www.philstar.com/business/2018/04/26/1809373/phoenix-petroleum-bags-meralco-supply-deal